Saybrook Style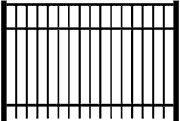 This classic design with smooth rail top reflects the mood of a late spring evening.
Please click the button to choose your grade of Saybrook style:
Perfect for most homes, this is our most popular grade of the Saybrook style.
The pickets are closer to each other in the Commercial grade which was designed for those needing more security such as schools and businesses.
The strongest grade for protection, the Industrial style has the thickest pickets we sell.
Here are detailed descriptions of each grade, including specifications for each grade:
Saybrook Residential Grade
Saybrook Residential aluminum fencing offers a combination of durability, strength and clean appearance, and will keep their attractive finish over a lifetime. Saybrook Residential Style's grade fence is the perfect choice to complement any architectural or landscape design. Like all our fences, matching gates are available for all of the styles.
The Saybrook Residential aluminum fence system can be applied to a wide range of residential uses. To define property lines, or enclose a swimming pool, Saybrook Residential Style fence will provide safety, function and beauty for years to come.
Saybrook Residential grade fencing is available only in 6' wide panels.
Pickets: .625″ x .625″ x .050″
Stringers: 1.00″ x 1.063″ x 1.00″

Side Wall: .060″
Top Wall: .060″

Posts: 2″ x 2″ x 0.060″
Gate Posts: 0.125″ wall
Picket Spacing: 4.375″ (On Center)
Spacing between pickets 3.750″
Heights Available: 36″, 42″, 48″, 60″, 72″
Optional Post

2.5″ x 2.5″ industrial post
2.5″ x 2.5″ x 0.075″ wall
Saybrook Commercial Grade
The Saybrook Commercial Grade fencing applies industrial strength to a less obtrusive appearing fencing system. This unique grade of fencing is ideal for areas where you need the strength of a commercial product with the aesthetic appearance of a narrower picket. The pickets are wider than the Residential versions, but thinner than the Industrial version.
The commercial grade is ideal for apartment complexes, factories, swimming pools, schools, shopping centers, churches or cemeteries.
Saybrook Commercial grade is available in either 6' or 8' wide panels.
Pickets: .75″ x .75″ x .050″
Stringers: 1.50″ x 1.00″ x 1.50″

Side Wall: .090″
Top Wall: .065″

Posts: 2.5″ x 2.5″ x 0.075″ wall
Gate Posts: 4″ x 4″ x 0.125″ wall
Picket Spacing: 4.312″ (On Center)
Spacing between pickets 3.562″
Heights Available: 42″, 48″, 60″, 72″,84″,96″
Optional Post

2″ x 2″ x .060″ wall
3″ x 3″ x 0.125″ wall
Saybrook Industrial Grade
The Saybrook Industrial Grade ornamental aluminum fencing system combines its heaviest gauge aluminum extrusions for high visibility and substantial appearance, with aesthetic excellence. The main difference between the industrial grade compared to the residential grades is that the pickets are thicker - the industrial grade incorporates a 1" x 1" picket. The finished product will beautify property lines while creating a deterrent to illegal entry.
This industrial grade is designed for high traffic public areas, industrial complexes, and commercial areas. Other applications include municipal buildings, schools, churches and apartment complexes.
Saybrook Industrial grade is available in 6' or 8' wide panels.
Pickets: 1″ x 1″ x .065″
Stringers: 1.625″ x 1.250″ x 1.625″

Side Wall: .100″
Top Wall: .070″

Posts: 2.5″ x 2.5″ x 0.075″
Gate Post: 4″ x 4″ x 0.125″ wall
Picket Spacing: 5″ (On Center)
Spaces between pickets 4″
Heights Available: 42″, 48″, 60″, 72″, 84″ 96″
Optional Post

3″ x 3″ x 0.125″ wall
4″ x 4″ x 0.125″ wall